Another Controller

Here's some pictures of a controller I built for someone else. Click on the images for larger views.
It started with the chassis as supplied by Dan Mauch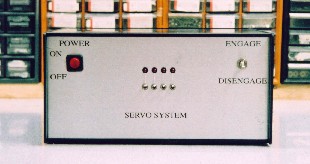 I then modified the front to use switches and my GERC board, and the back to use CPC ( Mil ) style connectors and differential drivers.I retained the plastic "molex" style connectors for Home, Limit, and EStop switches.
Inside, it's certainly crowded. On the back panel, you can see the relays, and in the middle is the GERC. On the right side are a pair of switching power supplies, one for 5 volts, one for 12.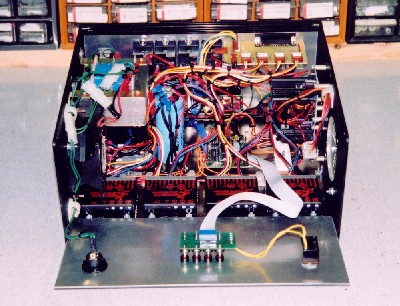 In a past life, I was an electronics service person, and nothing I hated more was to have to disassemble something to repair it, then reassemble it just to try it, then disassemble it again it didn't work. This controller was designed so that it all worked "spread out". Things that had to be short were kept short, things that could be on longer connections ( like the switches ) then ended up where they ended up. Just about everything uses a connector, the major exceptions being the Geckos (of course) and power supply cap, and they use screw terminals. There are only about three connections that require a soldering iron to remove - that I can live with.
In the foreground, you can see the motor end of the CPC/Mil connectors. These have a differential driver on them.